Central Heating Boiler Servicing
We service and carry out safety checks on all makes and models of gas appliance every 12 months to ensure that they are operating safely and efficiently. We also check the operation of your heating and hot water system and are happy to discuss any problems you may have with any aspect of your plumbing systems.
Every attempt is made to find a convenient time and date in which to carry out your gas appliance service and we fully appreciate that it is unacceptable for many people to have to wait in all day for the gas man.

Online Booking for Gas Boiler Servicing
Customers booking a gas appliance service become Priority Customers for 12 months from the date of the service taking place, giving them peace of mind that in the event of a heating/hot water breakdown in the depths of winter that we are ready to respond quickly (same day) to restore heat and/or hot water.
Boiler service and installation of replacement part.
"We needed a boiler service quickly due to a house sale, booked using BGM's great online booking system. BGM arrived within the booking slot, there was a part that required replacing, this was ordered and they returned the next day to install it."

Customer in Thatcham (25 April 2018)

During the winter months we often only attend breakdowns at properties where we regularly maintain the gas appliances/installation (Priority Customers/Landlords).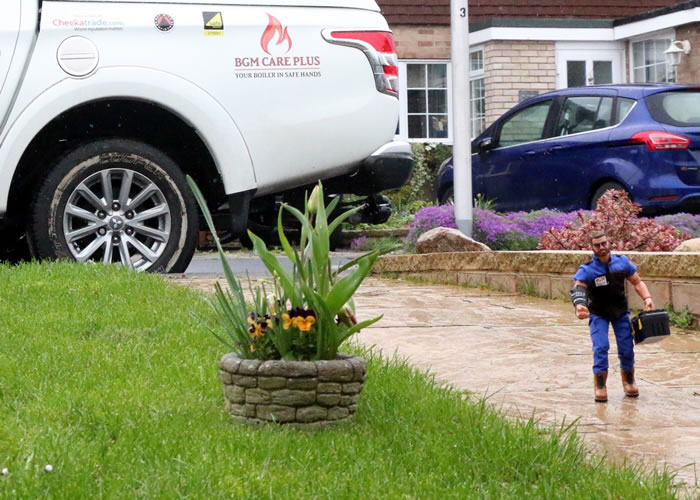 We will never attempt to sell you any additional products or services while in your home unless it is necessary to maintain the safe operation of your boiler/system. We will, at your request, provide information on system improvements and upgrades that are available and will send a fixed price quotation if required.
If you have decided to keep your old boiler/system for as long as possible we will support your decision and keep you informed of parts availability, we will carry on servicing your appliance for as long as it is safe to do so.
If you have a magnetic system filter or a serviceable scale reducing device (selected models only) protecting your boiler we will service and clean these at no additional (labour) cost during your service visit. Servicing and cleaning these devices annually will maintain your boiler's efficiency and reduce easily avoidable breakdowns.
We carry out additional service checks for landlords and we regularly deal direct with tenants to arrange access. This means that after the initial instruction our landlords need not invest any more time in the process. The paperwork will be delivered by email direct to the landlord/letting agent as soon as the work is complete.
Online Booking for Gas Boiler Servicing